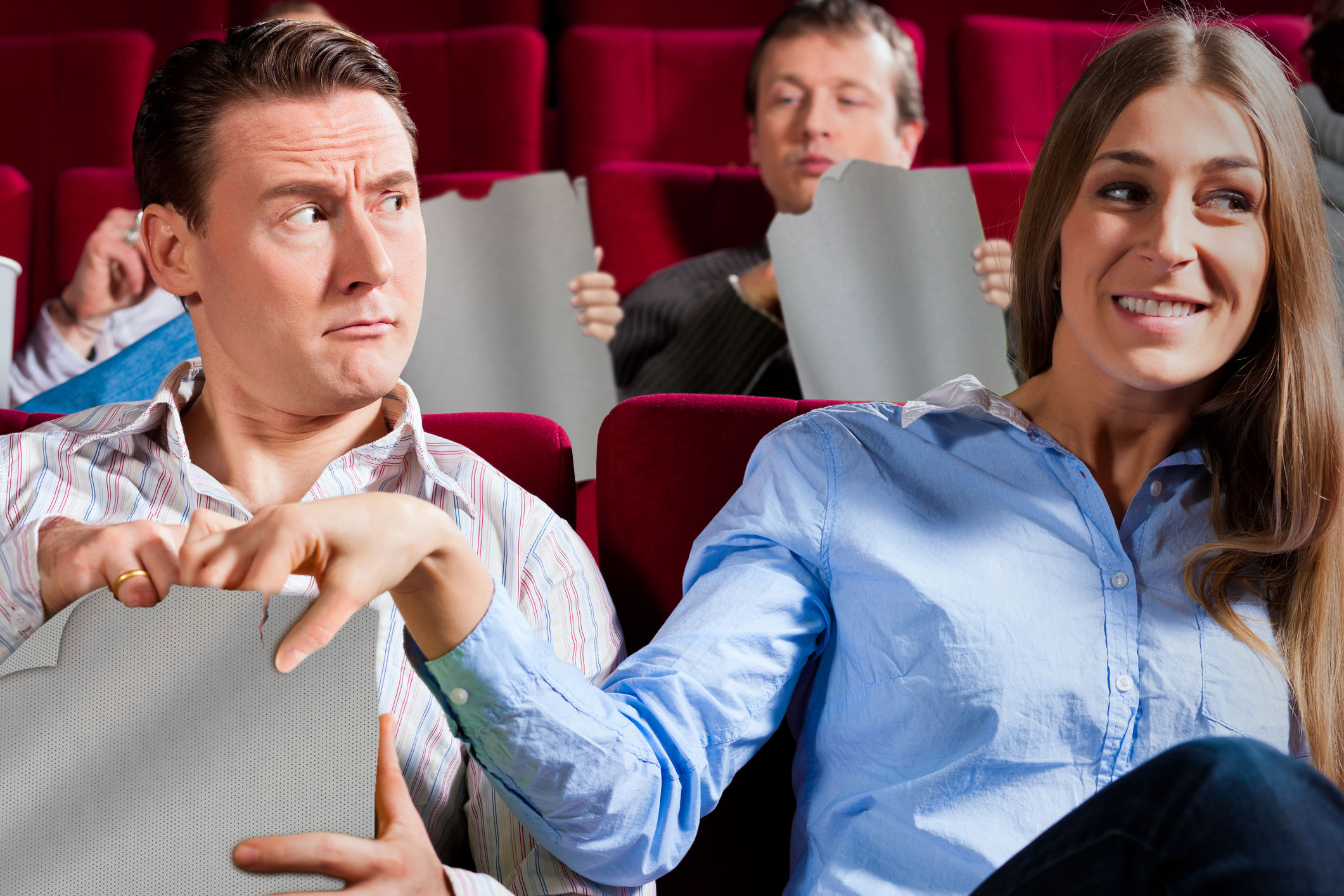 Ready to Ship on April Fools' Day 2016 – New Watch-N-Munch Technology Leaves Eyes and Bellies Satisfied – Proprietary Stay Fresh Coatings Increase Shelf Life – 27 Flavors Ready to Delight Customers Worldwide
Mesa, Ariz., April 1, 2016 – As a leader in the cinema, home theater, and Pro-AV screen industry, Severtson Corporation (www.SevertsonScreens.com) has a history of creating top quality screens, screen materials, and screen coatings.  Today, on the USA observed day of jokes and pranks known as "April Fools' Day", Severtson is making history once again with the announcement of its latest development: Edible Movie Screens. These are screens customers can enjoy watching a movie on, and then enjoy all over again, by eating them.
These screens were developed recently in the Severtson laboratories based in Mesa, Arizona. "It was serendipitous," said Kirk Severtson, head of research and development. "I was coating a screen with our spray arm, and I just happened to be eating a big bucket of popcorn at the same time. Well, I don't know if I was sleepy or what, but I accidentally spilled the popcorn into the coating drum! So the whole bucket of popcorn mixed in with our coating, and that buttery-painty mixture sprayed onto the screen. At that point, I probably should have stopped coating the screen altogether, but I thought, 'What the heck. Let's see what happens.'"
What happened next is something cinema insiders are calling short of a miracle. The first Edible Screen was born.
Kirk continued, "When the screen was finished painting, it still had all the normal qualities of our cinema screens. The gain was great, the uniformity was perfect, and the seams were invisible, it could still even be folded…but, it smelled like buttery popcorn perfection! And I thought, 'what if it tastes like buttery popcorn, too?' So I took a bite out of the screen. And you know what? It actually tasted GOOD!"
At first, the flavor of the Edible Screens was a bit rubbery. After several experiments, however, Kirk and his team of culinary experts were able to develop twenty-seven distinct and delicious screen flavors in various gain levels and perforation options. During the roll-out phase, flavors include strawberry, chocolate, butterscotch, pepper, salt & vinegar, bacon, cookies and cream, asparagus, nacho cheese, caramel, butter, anchovies and mint. For a complete list of flavors and pricing, visit www.SevertsonScreens.com/yummyscreens.
Daniel Maxwell, head of marketing, is ecstatic about the new Edible Screens. "What do couples do on a typical date? Dinner and a movie, right? Movie, dinner, dinner, movie- they go together like peanut butter and jelly. So why not eat the very thing they show the movie on? It just makes sense!"
The new Edible Screens are designed to be equally shared by audiences following the end of the movie. In test markets, this group dining experience has fostered a spirit of community among moviegoers. "It was really neat," said Lola Fontolla, who was one of the first to try out a new Edible Screen. "Everybody in the movie theater watched the same movie, and then, we all ate the same screen together. It was like we were all feeling the same thing at the same time, and I felt as if I was part of something grand, something larger than myself. I left full in my stomach. I was also full in my soul."
Severtson's standard and micro-perf make it so the screen can be easily torn by hand into bite-sized chunks, so no cutlery is required.
Due to the nature of these screens, they are one-time use only. Additional Edible Screens will need to be purchased and installed prior to each movie showing. Fortunately, the preservatives used in making the screens give them a very long shelf-life of many years, just like Severtson's real screens. Theater owners can stock up on Severtson's Edible Screens well in advance of blockbuster weekends.
It should be noted that during the testing phase, a small percentage of consumers experienced upset stomachs after eating the new Edible Screens. Further testing revealed that this phenomenon only occurred after a truly lousy movie was shown on the screen. As a result it was impossible to determine if the symptoms were due to eating the screen itself or buyer's remorse from having spent money and time on a poorly made movie.
Despite these hiccups, Severtson Corporation rejects the notion that further testing is needed. Daniel Maxwell remains undeterred. "I've been watching the movie screen industry for quite some time," Maxwell said. "This is the right time to release the Edible Screens. People are hungry for them now."
Edible Screens are available in several different material types, coatings and upgrades such as TAT-4K, SeVision 3D GX, Grey Vision, Acoustically Transparent, Acoustically Opaque, all metal grommets (metal grommets are NOT edible!), 2-inch pockets, 4-inch pockets, black vinyl, grey vinyl, white vinyl, fixed frame, manual pull down, manual pull up, in-ceiling, and screens that descend by the power of electricity.  
For those on special diets, Severtson Corporation is also proud to offer gluten-free, low-carb, and non-GMO Edible Screens. Kosher and halal screens are also available upon request.
So once again, Severtson makes history with its innovative and cutting edge Screens…and humor. If you've managed to read this far into the article,…You've been pranked! From all the folks over here at Severtson Screens, we wish you a very Happy April Fools' day 2016! 🙂
Severtson Corporation is a member of the Giant Screen Cinema Association and has manufactured cinema screens for theaters in countries all over the world, including the United States, Mexico, Canada, Korea, Japan, Brazil, Indonesia, Singapore, Spain, Germany, France, New Zealand, Australia, Netherlands, Thailand, Scotland, China, Russia, and many more. To meet the challenge of creating extremely large screens, Severtson Corporation designed a robotic spray-arm application system to paint its high-performance optical coating in-house on screens as large as 67.75ft.x 150ft. (20.7m x 45.8m). It is currently the largest in-house cinema screen optical coating system in the world. Severtson Screens certifications and partners include Technicolor, MasterImage, Dolby, Volfoni, LightspeeD & DepthQ, and RealD (www.severtsonscreens.com/certifications).
Celebrating its 30th anniversary in 2016, Severtson Corporation continues to be a global leader in innovation and quality. The Severtson family's extensive experience in manufacturing small home theater screens and large cinema screens has given Severtson Corporation the expertise to meet the needs of the professional and consumer AV markets for both indoor applications as well as large outdoor venues. With its three Arizona-based production facilities and its state-of-the-art robotic application system, Severtson has massive production capabilities and an unusually wide array of screens. The screens range in size from massive movie theaters, comfortable home theaters, and everything in between.
Please visit www.severtsonscreens.com, call 480-610-5155, or email sales@severtsonscreens.com.
About Severtson Screens
Mesa, Ariz.-based Severtson Screens, which celebrated its 25th anniversary in 2011, is an award-winning global leader in innovative and quality projection screens in the home theater, pro AV, and cinema markets. Its low rejection rate coupled with the high quality of all its products has made Severtson Corporation the industry standard for quality and customer service worldwide. From its unlikely origins in the family kitchen to today's three modern production facilities, Severtson Corporation has remained committed to the principles of innovation and uncompromising quality that have made them who they are today.
#  #  #