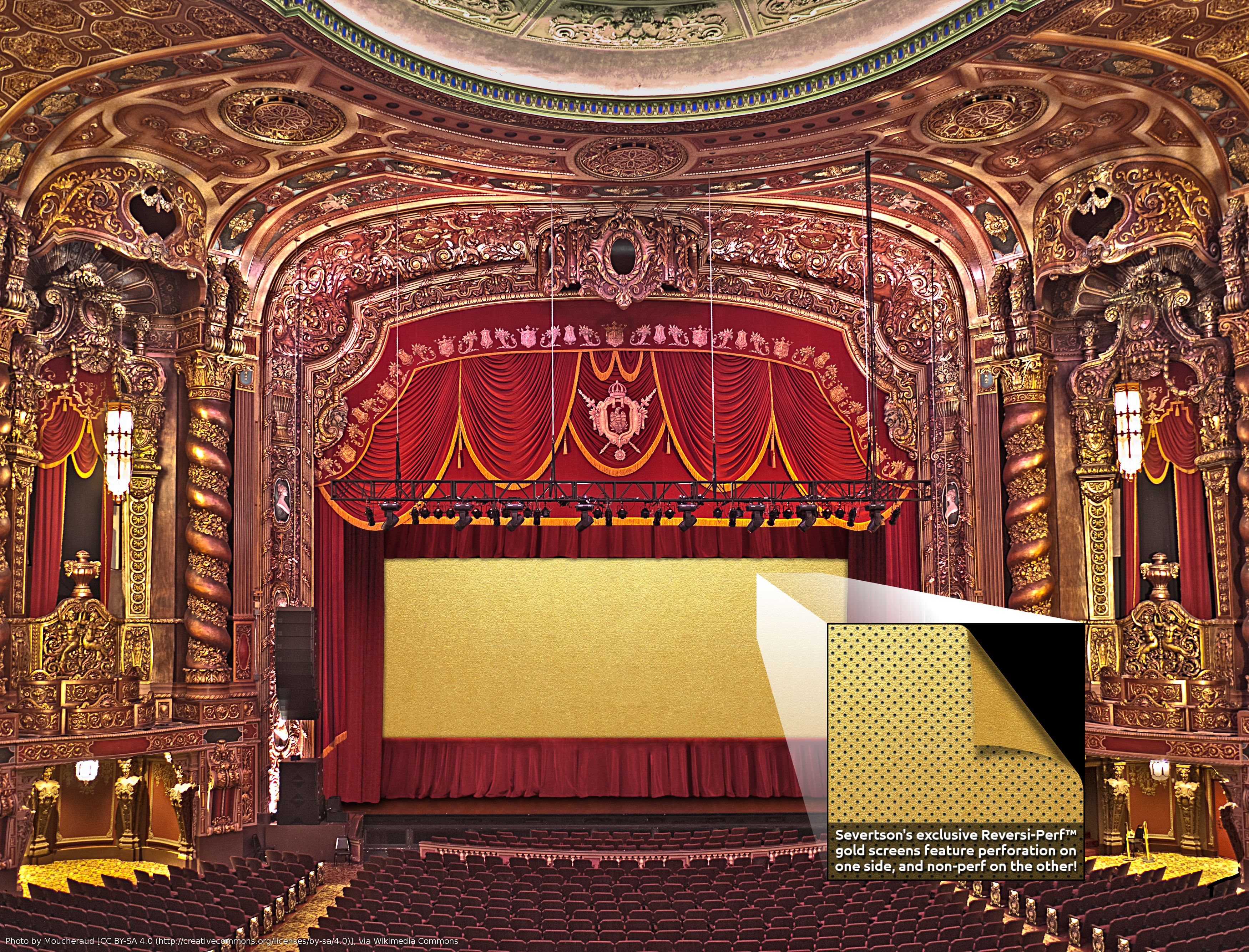 Ready to Ship on April Fools' Day 2017 – Severtson's New Designer Series Flaunts Gold Screens Leave Moviegoers Astonished – Screens Constructed Out Of Soft Corinthian Leather – Exclusive Reversible Perforation Innovation Give Theater Owners Acoustical Flexibility
Mesa, Ariz., April 1, 2017 – As a leader in the cinema, home theater, and Pro-AV screen industry, Severtson Corporation (www.SevertsonScreens.com) has a history of creating cutting edge, top-quality projection screens for their customers. Today, on this USA day of pranks and jokes known as "April Fools' Day", Severtson is once again announcing the creation of a new product line that takes projection screens to the next level: Gold-Coated Designer Screens. Made out of soft Corinthian leather, Severtsons' new Designer Series not only sports a luxurious shiny new optical coating, it comes with another Severtson innovative exclusive "Reversi-Perf" — reversible perforation — which features perforation on one side and non-perf on the other…
The idea for gold coated screens came up during a staff meeting at Severtson's corporate offices. "We were discussing our folded silver 3D screens during a routine staff meeting" said CEO, Toby Severtson, "when one of our finish technicians, Ben Bird, said: 'Our screens really are the gold standard in the screen industry, but how mind-blowing would it be if they were actually coated with gold?' I thought about that for a moment and then turned to our Research & Development team and said – 'make it happen.'"
"We obviously didn't have any gold flake laying around the office" said R&D director, Kirk Severtson "so I just melted down all of my wife's gold jewelry to help me build the first prototype screen."  Finding himself sleeping down at the office for the next several weeks, Kirk had plenty of time to expand on the gold screen concept, and came up with the new Gold Designer Series of Severtson Screens.   
Kirk's design team at Severtson Corp have had to overcome many obstacles to create the new gold screens.  But Severtson has confronted all the obstacles with confidence.  "Believe me, when you see see one of these screens, you're going to be dazzled!" said Kirk.
"Our goal with the Designer Series is to turn a night at the movies into a luxurious experience for everyone." said Dan Maxwell, VP of Cinema Sales. "Early in the project we determined that our standard vinyl would not provide the experience we were trying to create for our customers. We explored many exotic materials before deciding to manufacture all Designer Series screens using the finest soft Corinthian leather."  Not only is the screen beautiful to look at, the fine leather gives the theater an intoxicating aroma, adding to the ambiance of sophistication and refinement.
Another innovation, added exclusively to the Designer Series of projection screens, is reversible perforation.  This new perforation technique allows one side of the screen to be perforated without perforating the other side.  If the client needs to have a perforated acoustically transparent projection screen for one movie and a non-perforated screen for the next, they simply turn the screen around.  "I would love to explain how we accomplished this feat of material engineering" said Kirk Severtson, "but it actually breaks the laws of physics, so I don't think that would be prudent."  Theater owners are delighted with this new-found acoustic flexibility for their auditoriums.
Initial tests with the new gold-coated screen showed significant color distortion for all projected images.  Concerned that this might be distracting, Severtson conducted extensive market research with audiences across the world.  Much to everyone's delight and surprise, audiences were dazzled by the spectacle of a gold covered movie screen and didn't mind the color distortion at all…in fact, they preferred it as an iconic means to flaunting their status and wealth.  Post-movie interviews with the research subjects discovered that the effect of seeing a gold- coated screen was a feeling of confidence in their nation's economy and a desire to either invest more heavily in the stock market or start their own business. Theater owners love these new luxurious gold screens as they can charge several times the standard price of movie tickets to a customer class that doesn't mind paying obscene prices.  
Severtson's Designer Series of gold-coated screens are available for all types of projection screen applications.  Home Theater/Pro AV sales director Aaron White noted that "gold-coated screens also have a strong appeal for venues outside of the traditional movie theater. The Designer Series adds a touch of class to board rooms and private home theaters that simply can't be matched by anything on the market today."
Paul Whetten, Severtson's comptroller, sees an additional benefit for theater owners. "Because of the historic value of gold, gold coated screens might be considered an appreciating asset, and could even be used as a hedge against uncertain economic times down the road."  Paul recommends that screen owners visit with their CPAs to ascertain the potential benefits and drawbacks of having this much gold in their investment portfolios.
Severtson's Designer Series of projection screens will only be available for sale on April Fools' Day – April 1, 2017.  These historic screens are, like the press release that announces them, a complete fantasy.  We hope that you have enjoyed Severtson's third annual April Fools' Day prank, and that you will continue to stay tuned for the real announcements we make at trade shows and in trade publications throughout the year.    
Severtson Corporation is a member of the Giant Screen Cinema Association and has manufactured cinema screens for theaters in countries all over the world. To meet the challenge of creating extremely large screens, Severtson Corporation designed a robotic spray-arm application system to paint its high-performance optical coating in-house on screens as large as 67.75ft.x 150ft. (20.7m x 45.8m). It is currently the largest in-house cinema screen optical coating system in the world. Severtson Screens certifications and partners include Technicolor, Dolby, Volfoni, LightspeeD & DepthQ, and RealD (www.severtsonscreens.com/certifications).
Celebrating its 30th anniversary in 2016, Severtson Corporation continues to be a global leader in innovation and quality. The Severtson family's extensive experience in manufacturing small home theater screens and large cinema screens has given Severtson Corporation the expertise to meet the needs of the professional and consumer AV markets for both indoor applications as well as large outdoor venues. With its three Arizona-based production facilities and its state-of-the-art robotic application system, Severtson has massive production capabilities and an unusually wide array of screens. The screens range in size from massive movie theaters to comfortable home theaters and everything in between.
Please visit www.severtsonscreens.com, call 480-610-5155, or email sales@severtsonscreens.com.
About Severtson Screens
Mesa, Ariz.-based Severtson Screens, which celebrated its 30th anniversary in 2016, is an award-winning global leader in innovative and quality projection screens in the home theater, pro AV, and cinema markets. Its low rejection rate coupled with the high quality of all its products has made Severtson Corporation the industry standard for quality and customer service worldwide. From its unlikely origins in the family kitchen to today's three modern production facilities, Severtson Corporation has remained committed to the principles of innovation and uncompromising quality that have made them who they are today.